Posts for tag: nutrition
By Remington Family Dentistry
October 20, 2021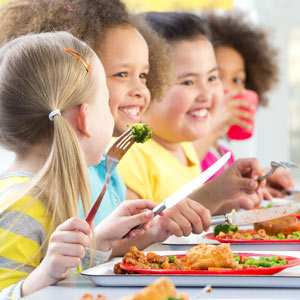 In addition to daily oral hygiene and regular dental visits, a tooth-friendly diet can boost your kid's dental health and development. You can help by setting high standards for eating only nutritious foods and snacks at home.
But what happens when they're not home—when they're at school? Although public schools follow the Smarts Snacks in Schools initiative sponsored by the U.S. Department of Agriculture, those guidelines only recommend minimum nutritional standards for foods and snacks offered on campus. Many dentists, though, don't believe they go far enough to support dental health.
Besides that, your kids may have access to another snack source: their peers. Indeed, some of their classmates' snacks may be high in sugar and not conducive to good dental health. Your kids may face a strong temptation to barter their healthy snacks for their classmates' less than ideal offerings.
So, what can you as a parent do to make sure your kids are eating snacks that benefit their dental health while at school? For one thing, get involved as an advocate for snacks and other food items offered by the school that exceed the USDA's minimum nutritional standards. The better those snacks available through vending machines or the cafeteria are in nutritional value, the better for healthy teeth and gums.
On the home front, work to instill eating habits that major on great, nutritional snacks and foods. Part of that is helping your kids understand the difference in foods: some are conducive to health (including for their teeth and gums) while others aren't. Teach them that healthier foods should make up the vast majority of what they eat, while less healthier choices should be limited or avoided altogether.
Doing that is easier if you take a creative, playful approach to the snacks you send with them to school. For example, if you send them to school with their own snacks, add a little excitement like cinnamon-flavored popcorn or cheese and whole wheat bread bites in different shapes. And make it easier for them with bite-sized snacks like grapes, baby carrots or nuts.
You can't always control what snacks your kids eat, especially at school. But following these tips, you may be able to influence them in the right direction.
If you would like more information on helping your child develop tooth-friendly snacking habits, please contact us or schedule an appointment for a consultation. You can also learn more about this topic by reading the Dear Doctor magazine article "Snacking at School."
By Remington Family Dentistry
October 31, 2019
Tooth enamel, to play on a phrase from Shakespeare, is made of "sterner stuff." The strongest substance in the body, enamel can take years of biting and chewing and keep on going.
It does have one nemesis, though—mouth acid, which can soften and erode enamel's mineral content. This is less of a concern if you have healthy saliva flow, because saliva neutralizes acid in thirty minutes to an hour after an acid attack and can also help re-mineralize the enamel. Daily brushing and flossing also help curb mouth acid by reducing the bacteria that produces it.
But as effective as saliva is at neutralizing mouth acidity, it can be overwhelmed by outside acid derived through certain foods and beverages. In the past couple of decades, at least two of these acid sources have grown in prominence: energy drinks and, believe it or not, sports drinks.
Just how acidic are they? The pH scale runs from 1 to 14, with acidity on the low end and alkalinity on the higher (7 is neutral). Tooth enamel begins dissolving below 5.5. Laboratory tests have pegged the average pH of energy drinks at 3.05 and sports drinks, 2.91.
Because of their acidity, frequent energy or sports drink consumption will bring mouth pH into the danger zone for tooth enamel. It's even more likely if these beverages are sipped over an extended period, which can prevent saliva from getting ahead of any newly introduced acid.
Keeping your distance from these beverages is probably the safest bet. But if you do imbibe occasionally, follow these common sense tips:
Avoid sipping the beverage over long periods—and try to limit drinking them to meal times;
After drinking a beverage, wash your mouth out with water and wait an hour to brush to give your saliva time to neutralize any acid.
Practice consistent, daily brushing and flossing.
Above all, keep a healthy respect for acidic foods and beverages like energy and sports drinks and don't overuse them. Your tooth enamel will appreciate it.
If you would like more information on the effect of sports and energy drinks on dental health, please contact us or schedule an appointment for a consultation. You can also learn more about this topic by reading the Dear Doctor magazine article "Think Before You Drink Sports and Energy Beverages."
By Remington Family Dentistry
November 05, 2018
Although energy and sports drinks have different purposes, they have one thing in common: they often contain added citric and other acids to improve taste and prolong shelf life. Their high acid content can harm tooth enamel.
Although enamel is the strongest substance in the body, acid can dissolve its mineral content. And although saliva neutralizes acid after eating or drinking and helps restore lost minerals to the enamel, it may not be able to keep up if the mouth remains acidic for a prolonged period of time.
That could happen with both beverage types. While energy drinks have higher acid levels than sports drinks, both are high compared with other beverages.
A recent laboratory experiment studied the two beverages' effect on tooth enamel. The researchers submerged samples of enamel in six different beverage brands (three from each category) for fifteen minutes, and then in artificial saliva for two hours to simulate mouth conditions. They repeated this cycle four times a day for five days.
At the end of the experiment the enamel in the energy drinks lost on average 3.1 % of their structure, while the sports drink samples lost 1.5%. Although energy drinks appeared more destructive, the acid in both beverages caused enamel damage. Although there are other factors to consider in real life, the experiment results do raise concerns about both beverages' effect on dental health.
You can, however, minimize the potential harm to your enamel from energy or sports drinks. First, try other beverage choices lower in acid; water, for example, is a natural hydrator and neutral in pH. Try to only drink energy or sports beverages at mealtimes when your saliva is most active. And after drinking, rinse your mouth out with water to dilute any remaining acid.
And although it sounds counterintuitive, wait about an hour to brush your teeth after drinking one of these beverages. Your enamel can be in a softened state before saliva can re-mineralize it, so brushing earlier could remove tiny amounts of enamel minerals.
Taking these steps with energy or sports beverages could help you reduce the chances for enamel erosion. Doing so may help you avoid unnecessary damage to your teeth and overall dental health.
If you would like more information on the effect of sports and energy drinks on dental health, please contact us or schedule an appointment for a consultation. You can also learn more about this topic by reading the Dear Doctor magazine article "Think Before You Drink."